ASN Sports HPC Nano Creatine Performance Formula
Scientifically advanced sports drink, incorporating NANO Creatine, B Vitamins, Electrolytes, Taurine & Pharmaceutical Grade Glucose.
Directions

Add 1 heaped scoop (44g) to 300ml (10 fl. Oz) of cold water in a drink shaker. Mix well and consume. Take 1 serve, twice a day
For optimum results, consume 1 serve before and during exercise with another serve to be consumed after exercise in conjunction with a post workout protein shake.



Nutrition Information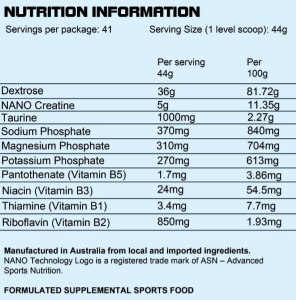 Always read the label & use only as directed.
If symptoms persist, see your health professional.